Clay Pigeon Shooting Gloucestershire
Welcome to Hailes Shooting Ground
If you're looking for somewhere to try clay pigeon shooting in Gloucestershire look no further!
Hailes Shooting Ground is set in the picturesque Cotswold Valley near the Anglo Saxon town of Winchcombe.  Surrounded by stunning views this versatile clay pigeon shooting ground is the ideal location to come and learn how to shoot, hone your skills, have a Corporate Day out or enjoy a Stag/Hen Party.
Run by Father and Son team Steve and Jamie Ivermee we aim to give you a challenging but enjoyable shoot day.  As we constantly change the layout of our ground you can continually shoot something different and expand your knowledge.  We regularly have shoot days and, as we're not a club, we're open to anyone to come and have a go.
A normal open clay pigeon shooting day will consist of a 100 bird shoot from 10 different stands.  We have 7 different types of traps to ensure you get to shoot a full variety of clays.  To find out when our next open shoot day is visit the "What's On" page.  Alternatively sign up to our email notification service and we'll email you to keep you up to date.   If email's not your thing follow us on social media for information on event dates.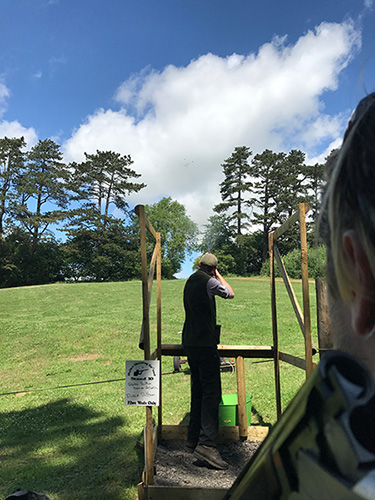 Tuition
Learn how to shoot
Tuition
Benifit from expert tuition from our local instructors in a safe and friendly environment. See our tuition page for more details
Simulated Game Days
The ultimate shooting event!
Simulated Game Days
On request we organise Simulated Game Days tailored to your requirements. To find out more visit our Simulated Game page
Clay Pigeon Shooting
Come and have a shoot!
Clay Pigeon Shooting
A normal day runs from 10.00am – 1pm (last cards issued at 12pm) and consists of a 96 or 100 bird shoot. Please double check the events page to see what's on.
Next Shoot: Saturday August 20 2022
Corporate Events
Book a corporate day out
Corporate Events
We run corporate event days to suit your needs. We can accommodate large groups. To book complete the form on the
Corporate Days
page
Hen & Stag Days
Enjoy a day out shooting clays!
Hen & Stag Days
We can run Hen or Stag days for large groups of people. To find out more visit our
Stag & Hen
page
Competitions
Keep an eye out for competitions at Hailes!
Competitions
Check the
What's On page
to see if we're hosting any competitions soon!
A standard open shoot consists of 96 clays shot from 12 stands or 100 clays shot from 10 stands. The standard charge for this is £35 but please check the What's On page for prices as we sometimes host different events.
This depends on how busy we are and how many people you shoot with but usually it will take about 1.5 – 2 hours
No – you can only use fibre wad cartridges on our ground.  No game cartridges are permitted.  Please bring clay cartridges with a maximum load of 28g.  We normally have cartridges for sale if required.